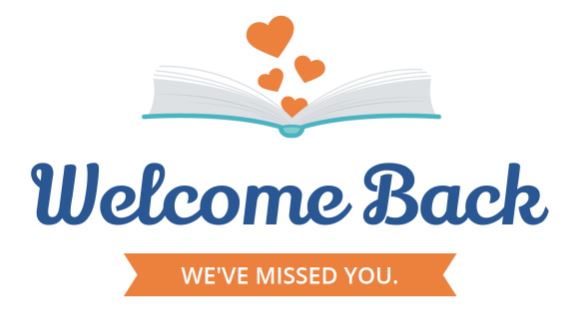 We appreciate your support and understanding during our closure and ask for your continued patience and flexibility as we prioritize the health of our staff and community. We will continue to monitor the situation and adjust our services and policies as needed. Be sure to follow us on social media (links at the bottom of this page) and sign up for our e-newsletter for all the latest news and updates.
As a public entity, E.D. Locke Public Library follows all current Dane County Public Health Orders as they relate to the COVID-19 pandemic. Starting Thursday, August 19, masks are once again required in indoor spaces such as the library for everyone two years and older per DCPH order:
Face Mask Emergency Order
CDC mask guidance
Disposable masks are available at the main desk.
Library staff will be masked.
The library will continue to encourage physical distancing inside our building and during any library programs. Check our current occupancy here.
Curbside pickup is still available by appointment. Schedule online or call 608-838-9030.
If you are feeling ill in any way, we ask you to show care for the community by not coming into the library or attending programs until you are feeling healthy again.
Library facilities and programs are open to all individuals regardless of vaccination status. We encourage everyone who is eligible to get vaccinated to help protect our community.

What to Expect:
Curbside pickup service is still available:
Monday - Thursday 2:00 PM - 6:00 PM
Friday - Saturday 2:00 PM - 4:00 PM

Most events/programs will remain virtual; any in person events will be held outdoors. 

Hours:
Monday - Thursday 9:00 AM - 8:00 PM
Friday - Saturday 9:00 AM - 5:30 PM
Sunday 12:00 PM - 4:00 PM

Per PHMDC order, masks are currently required for everyone ages 2 and up, regardless of vaccination status. Disposable masks are available at the main desk.

No food or drinks inside the library.

Book return now located in the lobby.

Additional self check stations for contactless check out.

A limited number of computers available to allow for social distancing. 

Wireless and self-pay printing available at the copier station.

Meeting space is not available.

Study rooms are available. Occupancy limited to 2 people. Can reserve for 1 hour; drop in use as availability allows. Study Room Policy (pdf)

Some areas may have limited occupancy due to space.

Most children's toys/game computers have been temporarily removed.

Headphones/earbuds are not available, please bring your own.

Please maintain social distancing from fellow patrons and staff and avoid gathering with those from outside your household.
Safety Measures
The library is following public health recommendations for COVID-19 safety, including:
Masks and physical distancing as appropriate.

Providing hand sanitizing stations throughout the library. We encourage sanitizing/washing hands before and after your visit.

Disinfecting high contact surfaces and equipment periodically.

Occupancy sensors to limit capacity: Current Occupancy

Improved air filtration including needlepoint bipolar ionization technology.

Restrooms are equipped with touchless fixtures and cleaned daily.

Please stay home if:

You are currently experiencing any of the following symptoms:
--Cough/shortness of breath
--Fever >100 F
--Chills
--Muscle pain
--Sore throat
--New loss of taste or smell
--Any other symptoms of respiratory infections not attributable to seasonal allergies
You have received a positive COVID-19 test result or diagnosis in the past 14 days.
In the past 14 days, you have been exposed to an individual who later tested positive for COVID-19.
You or a member of your household is currently awaiting the results of a COVID-19 test.
COVID-19 Information and Resources
Centers for Disease Control & Prevention
Wisconsin Department of Health Services
Public Health Madison & Dane County
Dane County COVID-19 Vaccine Information
Village of McFarland