Send documents from your computer or mobile device to print in the library (see bottom of page for curbside option).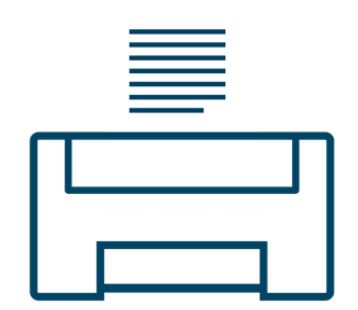 Black & White: $0.10/page
Color: $0.50/page
Step 1:  Send your documents
Upload your document here or download the free Public Print Locations app to easily print from your mobile device.
IMPORTANT: Make note of the username/card number you entered.
Documents must be printed within 24 hours of upload or will be cleared.
Public Print Locations app available here:
Step 2:  Pay and print your documents
Documents now print at the copier station in the library.
At the payment kiosk, press the "Card Number/WebPrint User" button and enter the username/card number you used when uploading your documents in Step 1. 
Add payment (kiosk accepts coins, $1 bills, VISA/Mastercard, and Apple/Google/Samsung Pay).
Select the document(s) you would like to print.
Press "Log Off" on payment kiosk when finished to collect change/clear your payment information.
If you would like us to print your documents and pick up using our curbside service (additional service fee applies):
1. Send your documents following the instructions in Step 1 above or call 608-838-9030 for assistance.
2. Use our online payment service to pay for your documents (additional service fee applies). 
Enter the username/card number from Step 1 in the Description field under Payment Information.
Enter the estimated cost from Step 1 in the Payment Amount field (B&W $0.10/page, Color $0.50/page).
This service is provided through GovPayNet and there will be a 3% or $1.00 fee (whichever is higher).
If you are not able to pay by credit/debit card, please call the library at 608-838-9030 for assistance.
3. Call the library to set up a curbside pickup time (Monday-Friday 10:00 AM - 5:30 PM). Please allow at least one hour for staff to print your items and ensure payment was received.
Access to this resource was made possible by funding from the Institute of Museum and Library Services through the CARES ACT.