Our December Newsletter incorrectly stated that Saturday, December 9th's Cybersecurity Workshop is 4-4 PM.  It is 4-5 PM.  We apologize for the confusion.  Please refer to our webpage for more information.
Free with your library card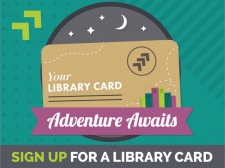 E-Newsletters
Read our latest issues: 
November 2023
October 2023
Teen News November 2023
Get news and events in our monthly newsletter. We also offer NextReads newsletters featuring expert book recommendations on a variety of topics and genres.