Image

Image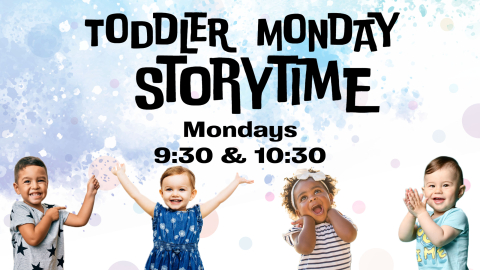 Toddler Monday Storytime
Mondays, September 11 - November 20
9:30 a.m. and 10:30 a.m.
At the Library
Stories, songs, and shenanigans at our Toddler Monday Storytime.  This storytime is designed for toddlers (ages 2-4) with lots of movement and shorter stories.
No Storytime on Monday, September 25th and Monday, October 9th
Image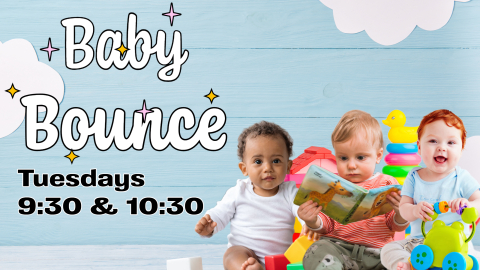 Baby Bounce
Tuesdays, September 12 - November 21
9:30 a.m. and 10:30 a.m.
At the Library 
Bouncing, rhyming, and board books fill our baby bounce program.  This program is designed for babies 0-24 months.  After each program we will have social time for babies and parents.  
New this year - 10:30 a.m. session.  
No Baby Bounce on Tuesday, October 10th
Image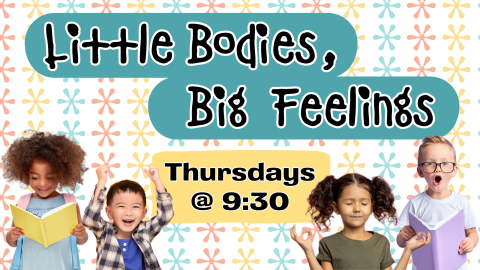 Little Bodies, Big Feelings
Thursdays, September 14 - November 16
9:30 a.m.
At the Library 
This sensory friendly storytime is designed for children ages 3 and up.  Each week we will share stories, songs, rhymes, and mindfulness activities.  After the program there will be crafts and play time.  
No Little Bodies, Big Feelings on Thursday, October 12th and Thursday, October 19th.
Image

Image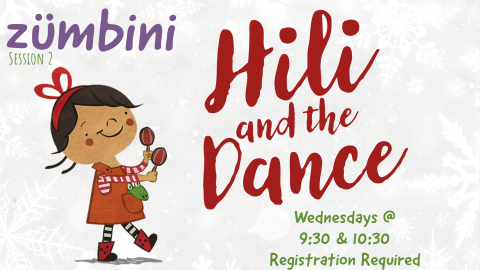 Zumbini Session 2: Hili and the Dance
Wednesdays @ 9:30 a.m. and 10:30 a.m. at the Library
 November 29 - February 7
It's a good good day, here we come to sing and play!  Join us for our second session of Zumbini: Hili and the Dance.  
Space is limited, registration is required.  
Registration is full for both classes.  To be added to the waiting list email youthservices@mcfarlandlibrary.org
Image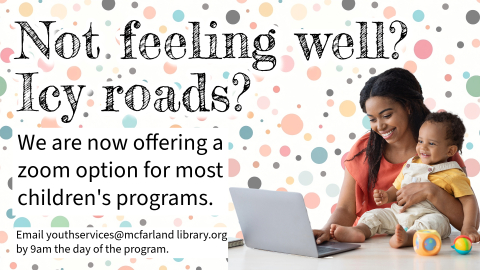 Not Feeling Well?  Icy Roads?
Zoom Options Available
This winter/spring we are offering zoom options for Toddler Monday Storytime, Zumbini, Little Bodies Big Feelings, and PJ Storytime.  To attend these programs virtually, email youthservices@mcfarlandlibrary.org by 9am the day of the program you wish to attend.  For PJ Storytime, please email by 5:30pm the day of the program.  
If you need accommodations to attend our children's programs, please contact library staff at least 2 weeks prior.  Phone: 608-838-9030  Email: youthservices@mcfarlandlibrary.org