Image

Hours: Monday-Thursday 2:00 PM - 6:00 PM, Friday-Saturday 2:00 PM - 4:00 PM
Appointment Required - Call 608-838-9030 or email mcflib@mcfarlandlibrary.org to arrange time outside regular curbside hours
Our curbside pickup service will remain available as demand warrants. Appointments allow us to have your materials ready to deliver at your scheduled time. If your plans change or you need a time outside our regular curbside hours, please call us at 608-838-9030.
STEP 1: Place your items on hold
Use LINKcat to place items on hold: linkcat.info
Call us at 608-838-9030 or visit the library and we will place holds for you.
You will be notified via email, text or phone when your hold is ready.
STEP 2: Arrange an appointment
Once you receive notification that your holds are ready, schedule online or call 608-838-9030 to arrange a time for pick up.

Online scheduling only available if you have holds waiting. Please call to schedule a time to pick up book bundles, craft kits, or other special circumstances.
Make sure to enter the correct library card number and PIN. If either of these numbers are incorrect, the system may say you don't have any holds available. If you have forgotten your PIN, contact us at 608-838-9030.
If you would like to pick up holds for other family members, please enter their name(s) in the Notes to Library Staff field when you make your appointment.

Using CDC & health department protocols, staff will pull your items, check them out to your account, bag them and attach a hold slip with your name on it. (If you have questions about our safety procedures, please give us a call or send an email).
Image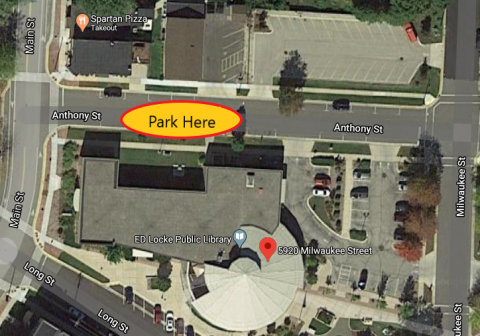 STEP 3: Pick up your items
Our pickup location is on the north side of the library on Anthony Street (across from Spartan Pizza and the food pantry).
Look for our white sandwich board sign and pull up to the curb cut. 
Call 608-838-9030 when you arrive (if you don't have a cell phone, please call before you leave home).
Please pop your trunk or roll down a backseat window if possible to minimize contact. We will put the bag of items in your vehicle.
Please keep pets restrained so staff can safely deliver your items. They may react unexpectedly to a stranger reaching into the vehicle.
STAFF ARE UNABLE TO ACCEPT RETURNED ITEMS AT THE CURBSIDE. If you have items to return, place them in the overnight book drop on the east side (Milwaukee St) of the building or bring them inside. Please do not try to give them to staff who are delivering your items to the curb.
Important Notes:
Staff are not allowed to take hold requests at the curbside. Please call 608-838-9030 and staff are happy to help you place a hold or make a reading recommendation. You can also place your own holds by visiting linkcat.info.
No overdue fines for items checked out at our library.
The library is following CDC and Public Health Madison & Dane County guidelines for COVID-19 safety.