Image

Image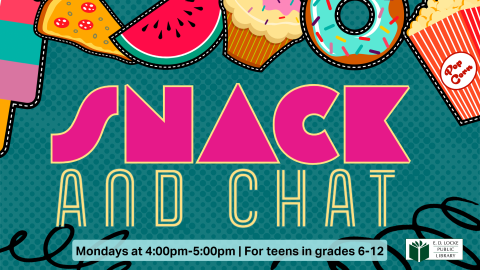 Snack & Chat
This weekly event for teens involves two things (and you'll never guess what they are): snacking and chatting. Head to the library meeting room on Mondays after school to grab some food with your friends! 
Mondays, September 12th-December 18th, 4:00pm-5:00pm
Note: no Snack & Chat on Sept. 25 and Oct. 9.
Image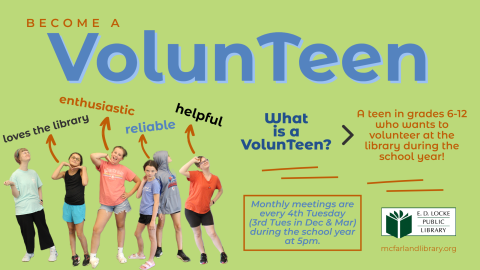 VolunTeens
If you are looking for volunteer hours, are responsible and hardworking, and care about the library, then you should be a VolunTeen! VolunTeens meet once a month to give feedback on library programs, help out with various projects (like getting a craft project ready for storytime), and contribute to the Teen Newsletter. VolunTeens are asked to help volunteer at several different library events each month as well. Not only are they giving back to the community, but they get work experience that can be added to a resume and can be eligible to earn a letter of recommendation. 
Fourth Tuesday of the month in Sept-April (third Tuesday in Dec and Mar),  5:00pm-6:00pm
Please fill out this form to register: https://forms.gle/Mc2JueDinStXSDxs9
Image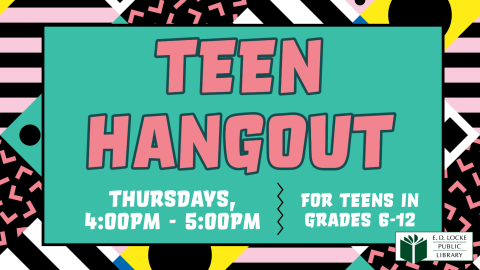 Teen Hangout
Hangout with your friends after school on Thursday afternoons! Come to the library meeting room for Nintendo Switch games, board and card games, random crafts, and other shenanigans. 
Thursdays, September 15th-December 21st, 4:00pm-5:00pm
Note: no Teen Hangout on September 21, October 12, or November 23.
Image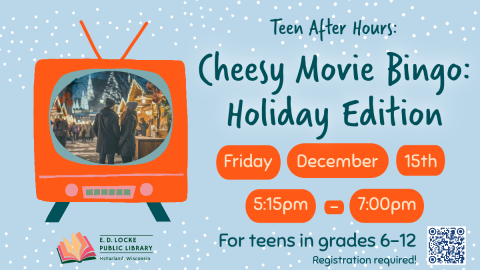 Teen After Hours
Teens are invited to a special monthly event that takes place after the library closes! September is a Karaoke Night, October will be a Five Nights at Freddy's themed night, November is Nerf Capture the Flag, and Cheesy Movie Bingo will happen in December. 
Friday, Sept 29th, Oct 27th, Nov 3rd, & Dec 15th, 5:15pm-7:00pm. 
Registration for Cheesy Movie Bingo is required. Register at this link: https://forms.gle/3yLkCtvqJRquhYWQ8
__________________________________________________________________________________________________________________________________
 Follow @mcfarlandteens on Instagram for more teen content! 

Follow on YouTube for Young Adult book recommendations!


 Subscribe to the NEW Teen Library Newsletter!
Questions? Contact Abby, the teen librarian, at teenservices@mcfarlandlibrary.org