Teens in grades 6-12 are invited to teen programs at the library.
Summer 2023
Image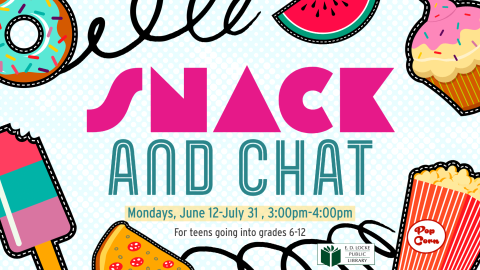 Snack & Chat
This weekly event for teens involves two things (and you'll never guess what they are): snacking and chatting. Head to the library meeting room on Monday afternoons to grab some food with your friends! 
Mondays, June  12th-July 31st 1st, 3:00pm-4:00pm
Image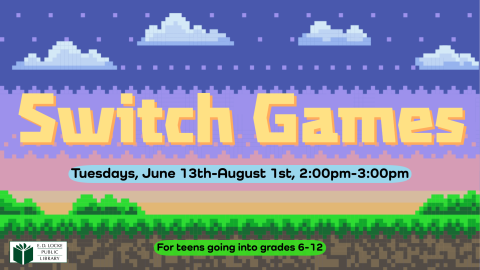 Switch Games
Calling all gamers! The Nintendo Switch and other games will be available for teens to play at this weekly program. Challenge your friends to some Mario Kart, Super Smash Bros, and more! All supplies will be supplied by the library. Players do not need to bring there own games, controllers, or consoles. 
Tuesdays, June 13th-August 1st, 2:00pm-3:00pm
Image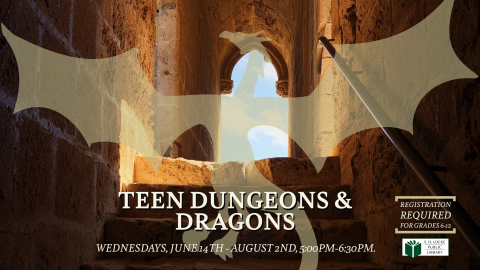 Dungeons and Dragons Club
Whether a first time player or total expert, all are welcome at this collaborative role-playing game! Space is limited so players must register and be willing to commit to the weekly campaign.  
Wednesdays, June 14th-August 2nd, 5:00pm-6:30pm. 
Registration is FULL. Join the waitlist by emailing the Teen Librarian at aseymour@mcfarlandlibrary.org. 
Image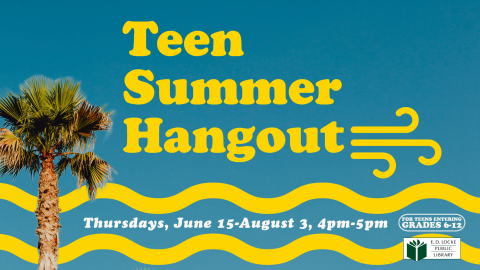 Summer Hangout
Hangout with your friends on Thursday afternoons! Each Thursday is a different activity and includes a taste test challenge, crafts like hydro-dipped mugs and no-sew pillows, LEGO day, a back-to-Kindergarten day, and so much more. The summer ends with a Late Night Library Lock-In! 
Thursdays, June 15th-August 3rd, 4:00pm-5:00pm
Schedule of events:
6/15- Taste Test Challenge
6/22- Back to Kindergarten
6/29- Hydro Dip Mugs
7/6- VR Headset
7/13- Outdoor Games
7/20- No-Sew Pillows
7/27- LEGO Day
8/3- Late Night Library Lock-In (registration coming soon)
 
Image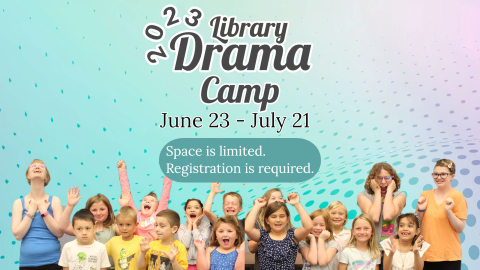 Drama Camp
Drama Camp is back this year for school aged children from Kindergarten - 12th grade. We will work on different aspects of stagecraft and put together scenes for our grand finale presentation on July 27. 
Fridays, June 23 - July 21, 11:30am-12:20pm
Registration is required. Registration opens on June 1.
Image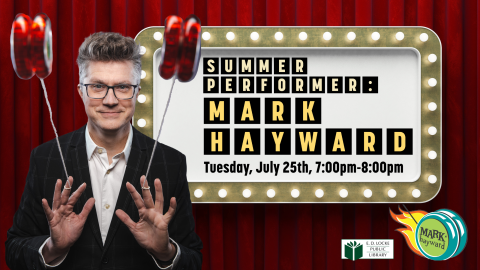 Summer Performer: Mark Hayward, the Yo-Yo Guy
Join us for an evening of entertainment in the most unexpected form: a yo-yo. Mark Hayward is a Madison native who has performed for groups across the country, including being featured on America's Got Talent and The Late Show with David Letterman. Watch him perform his amazing tricks and also learn some yo-yo tricks of your own! Yo-yos will be available for sale. 
Tuesday, July 25th, 7:00pm-8:00pm
_______________________________________________________________________________________________________________________________________
  Follow @mcfarlandteens on Instagram for more teen content! 

 Follow on YouTube for Young Adult book recommendations!


 Subscribe to the NEW Teen Library Newsletter!
Questions? Contact Abby, the teen librarian, at teenservices@mcfarlandlibrary.org