Teens in grades 6-12 are invited to the library's teen programs.
Fall Teen Programs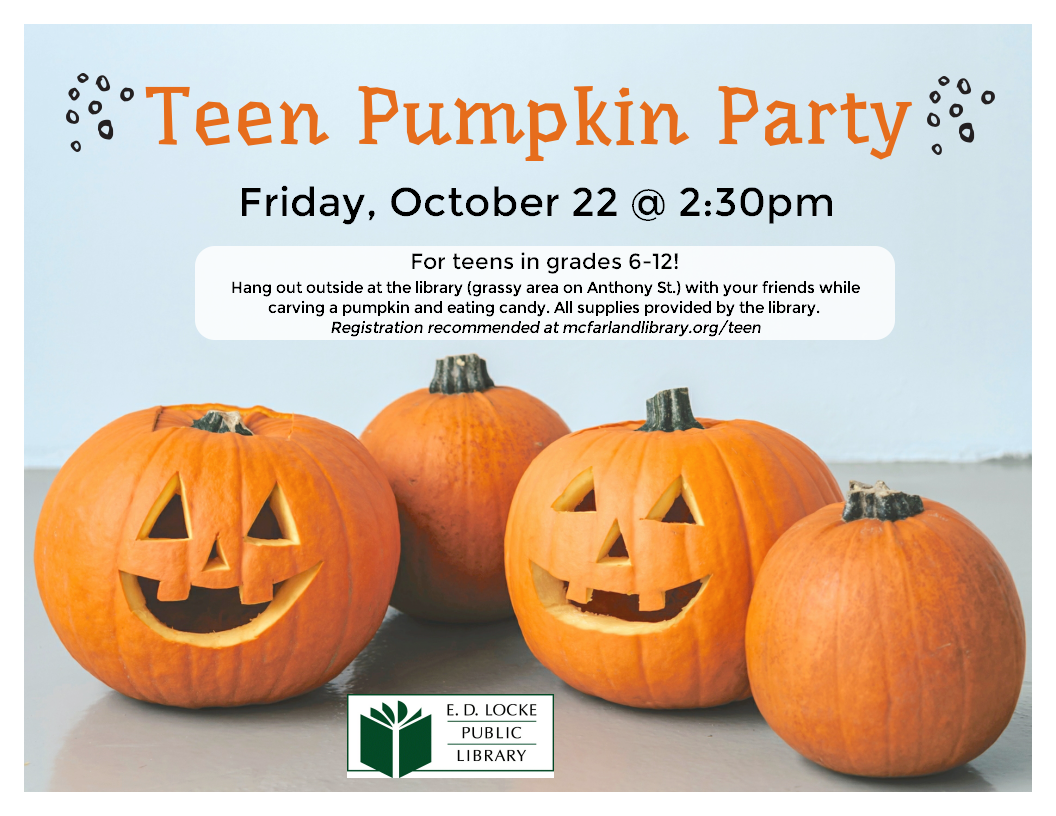 Teen Pumpkin Party
Friday, October 22nd, 2:30pm - 3:30pm

Hang out outside at the library (grassy area on Anthony St., across from the food pantry) with your friends while carving a pumpkin and eating candy. All supplies provided by the library. 
Registration recommended. Register at this link: https://forms.gle/fNPx22Rm2nJNa3MM8
Snack & Chat
Mondays, Sept 20 - Dec 13, 3:45-4:45
What's better than eating some food with friends? Head to the outdoor grassy area (on Anthony St.) at the library after school for some snacking and some chatting. 
No registration needed!
 
October: happening OUTSIDE! Come to the grassy area on Anthony St.
          

 
Graphic Novel Book Club
First and Third Tuesday of the month, Sept 21 - Dec 21, 4:00 - 5:00
This laid-back, easy going book club is an opportunity for all teen readers to tell others about the books they are most excited about. Specifically, graphic novels! Join the library outside (on the grassy area on Anthony St.) and be ready to tell the group about what you've been reading recently. 
October: happening OUTSIDE! Come to the grassy area on Anthony St.
Teen Hangout
Thursdays, Sept 23 - Dec 16, 4:00-5:00
Hangout with your friends on Thursday afternoon! Every week outside at the library, you'll have time to chat with friends and participate in the weekly activity. The group will be doing things like craft projects, trivia, board games, card games, Mafia, and so much more!
October: happening OUTSIDE! Come to the grassy area on Anthony St.
10/7- RAIN DAY! The group will play Jackbox Games on Zoom instead.
10/14- Button Maker
10/21- Team Trivia 
10/28- Halloween Slime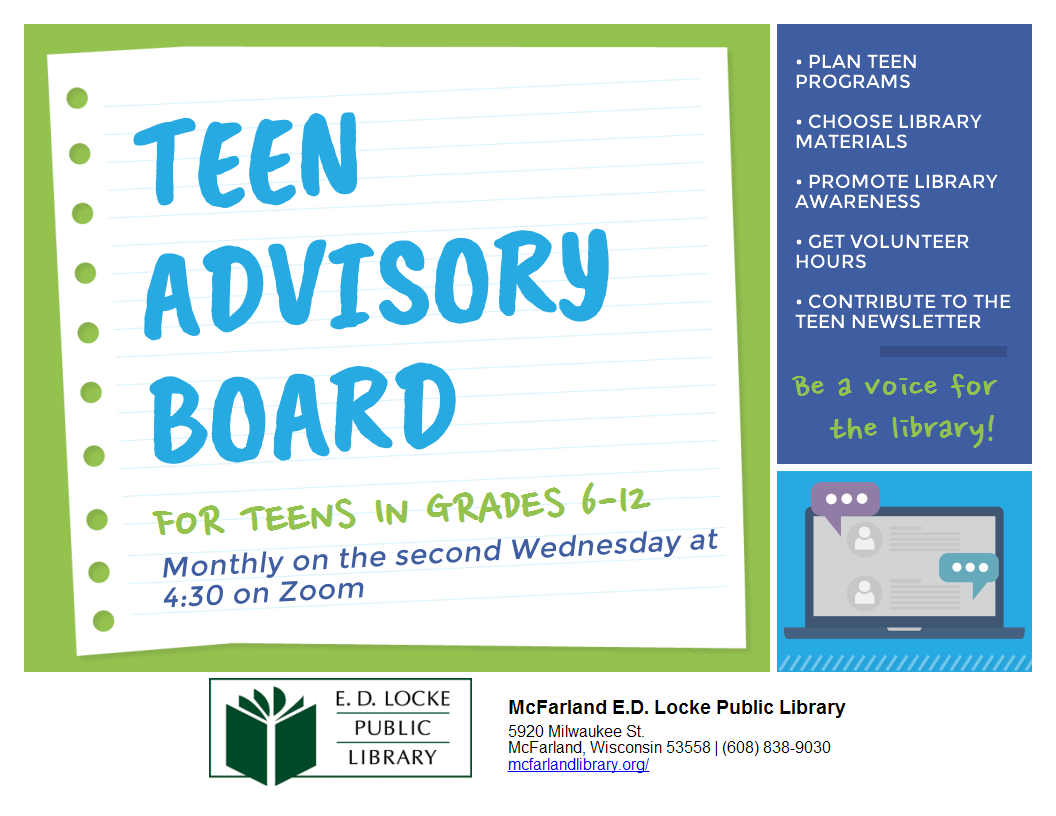 Teen Advisory Board (T.A.B.)
Second Wednesday of the Month,  Sept  8 - Dec 8, 4:30-5:30
T.A.B. is a volunteer group of teens who want their voice to be heard at the library! The group has input on library programs, gives book recommendations, connects the library to the schools, creates a library newsletter, and advises the teen librarian on different matters. Meetings are monthly and can count for volunteer hours! 
Happening on Zoom! Register here: https://forms.gle/3fWv3kZsWpU5QhNX6 

______________________________________________________________________________________________________________________________________________________________________________________________________
Check out the interactive Teen Room for your one-stop-shop of everything library related for teens!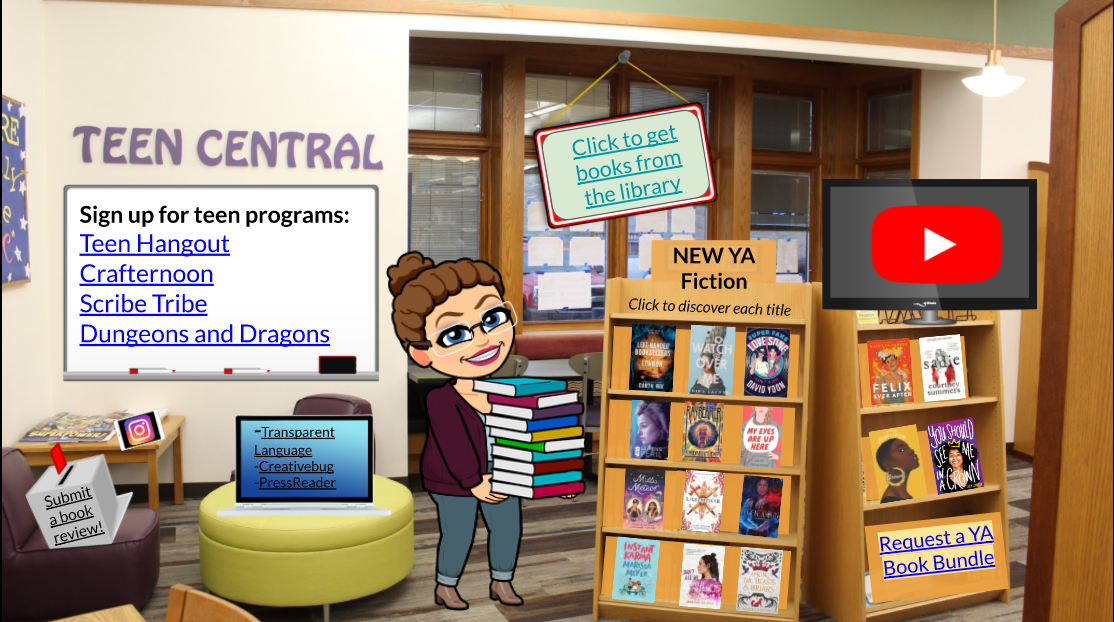 Follow @mcfarlandteens on Instagram for more teen content! 

Follow on YouTube for Young Adult book recommendations!

 
Subscribe to the NEW Teen Library Newsletter!
Questions? Contact Abby, the teen librarian, at teenservices@mcfarlandlibrary.org