Image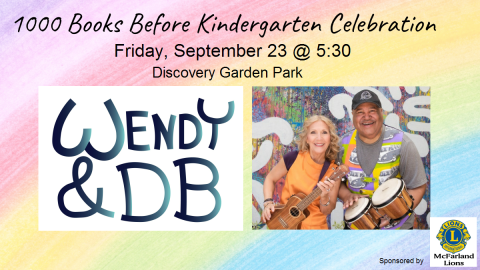 1000 Books Before Kindergarten Celebration
Featuring Wendy and DB
Friday, September 23 @ 5:30
Discovery Garden Park
Join us for an outdoor concert celebrating participants of the 1000 Books Before Kindergarten Program.  Wendy and DB are back and ready to get the audience (young and old) singing, dancing, and cheering along.  This program is sponsored by the McFarland Lions Club.
Image

Image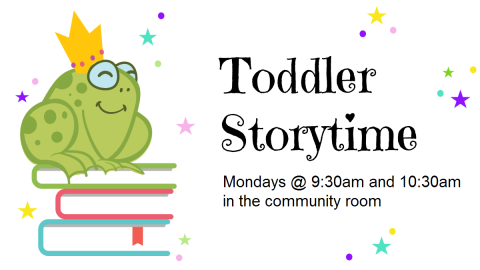 Toddler Monday Storytime
Mondays @ 9:30am and 10:30am
September 12 - December 19
Enjoy stories, songs, rhymes and movement.  Shorter books are selected for younger children but all ages are welcome to join.  
No Storytime September 26th.
Image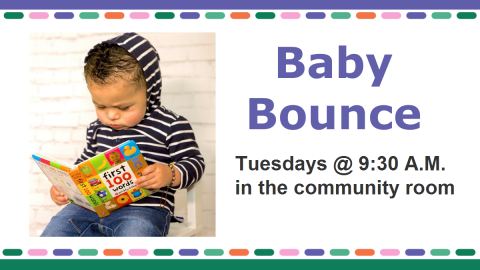 Baby Bounce
Tuesdays @  9:30am 
September 6 - December 20
Music, movement, visual literacy and language development for our little ones.  After the program families are welcome to stay and socialize while the little ones play.  
Image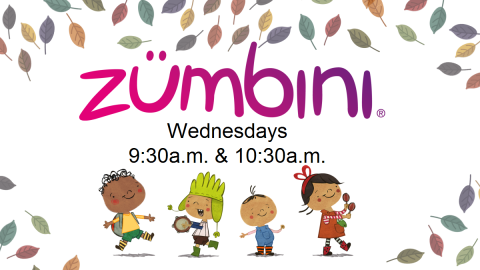 Zumbini Session 1: Kalino Finds the Music
Wednesdays @ 9:30am and 10:30am
September 7 - November 16
This program is designed to foster learning and bonding through music and movement.  You can also check out a Zumbini Book and CD to share with your child at home during the week.  
Space is limited, registration is required.
Register Here:
9:30 Zumbini Class
10:30 Zumbini Class
Image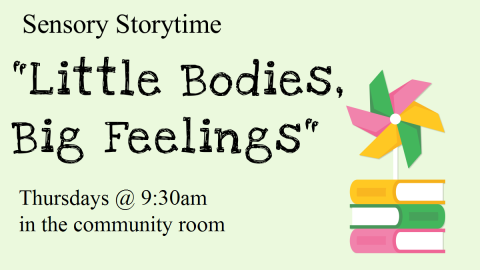 "Little Bodies, Big Feelings"
Sensory Friendly Storytime
Thursdays @ 9:30am
September 8 - December 22
This inclusive storytime is for children of all abilities, especially those not comfortable at a traditional storytime. The 30 minute storytime will include stories, songs, movement, and sensory activities. Each sensory storytime will be followed by a 30 minute stay-n-play with our sensory stations.
No Storytime September 22, November 24th, and December 1.  
Image

Image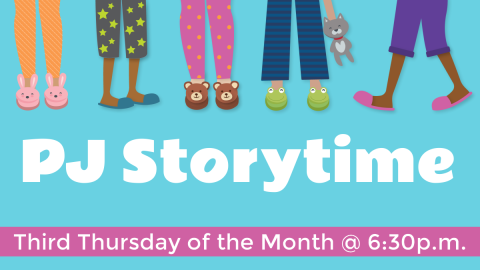 PJ Storytime
Third Thursday of the Month @ 6:30pm
Join us each month for our third Thursday PJ Storytime at 6:30 p.m.  Each month the storytime will feature a special theme that participants will be immersed in.  We will share songs, stories, rhymes, crafts, a snack, and more.  All ages welcome.
Themes:  September - Pajama Party, October - Halloween, November - Stuffed Animal Sleepover, December - Santa
Image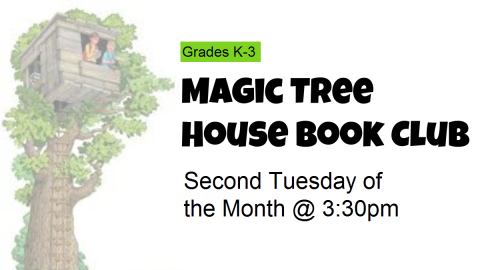 Magic Tree House Book Club
Second Tuesday of the Month @ 3:30pm
This book club is open to students in grades K-3.  We will share books from the Magic Tree House series as well as do an activity introducing that month's book.  Books will be available to check out at each meeting.  
Image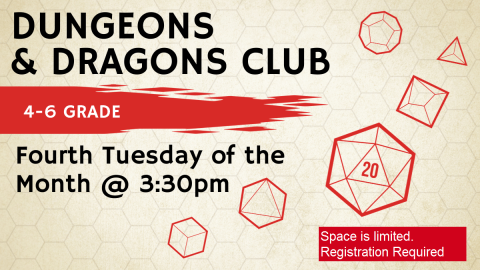 Dungeons & Dragons Club
Fourth Tuesday of the Month @ 3:30pm
Greetings adventurers!  This club is for students in 4-6th grade who are new or have been playing Dungeons & Dragons for a while.  Each month we will meet for a 1.5 hour session.   Space is limited, registration required.
Image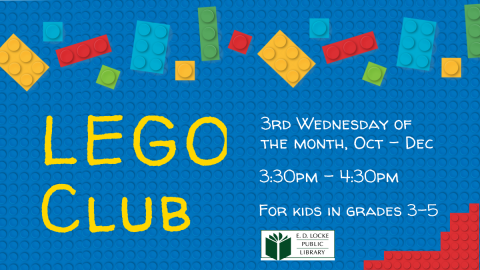 Lego Club
Third Wednesday of the Month @ 3:30pm
Starting in October, join Ms. Abby for the library Lego Club.  Each month you will be able to build, create, and share Lego creations during this one hour program.  
Image

This program encourages you to read 1000 books to your child before they enter school.  Experts have found that children that are read to at an early age have better success in school.  By reading to your child every day you are developing pre-reading skills that are essential to school and learning success.  It also provides a terrific bonding opportunity.  
Join our program through the Beanstack site or app and start logging your program progress.  
Visit our site: Beanstack Website