Image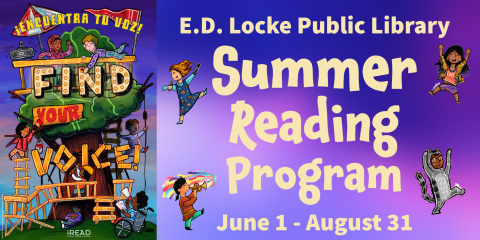 June 1 - August 31
"Find Your Voice" is the theme for the 2023 Summer Library Program. This program, which is sponsored by the E.D. Locke Public Library, encourages recreational reading and library usage by the McFarland community during the summer. 
The library offers four program levels:  
Rubber Ducky (ages Birth through 3)
Elementary Reader (4k – 5th grade)
Teen Readers (6th – 12th grade)
Adult Readers (age 18 and over)
Keep track of your reading and activities online at mcfarlandlibrary.beanstack.org or download the Beanstack Tracker app on your phone or tablet.
Create your account, add readers, and register for challenges. You can register an individual, family, or class/group. Watch the video above for a quick tutorial.
Log your reading time and complete other activities to earn virtual badges and tickets.
Use your virtual tickets to enter our grand prize drawings through August 31.
Winners will be chosen September 1st and contacted by email/phone the following day.
Each child that completes the reading program will receive a free book. Grand Prizes include local gift cards, library swag, and gift bundles. Please note that prizes must be picked up in-person.
Contact the library at 608-838-9030 if you need assistance or have any questions.
For information on storytimes, virtual performers, and other programming for all ages:
Image

Rubber Ducky Club
Little readers (birth through 3 years old) can be part of our Rubber Ducky Club. Participants will log books and activities throughout the summer. Earn points, badges, and enter for prizes along the way. Children who complete the program will receive a free book and knitted toy made by the Madison Knitter's Guild.  
Image

Elementary Readers (4K - 5th Grade)
Readers in 4K through 5th Grade will build up their minds by not only reading but by doing activities this summer. Track times for reading and activities throughout the summer to earn badges and tickets. Tickets can be used to enter for one of our awesome grand prizes. *Reading time includes time reading independently and being read to.*  Every child that completes the reading program will receive a free book.  
Image

Teen Readers (6th - 12th Grade)
Teens and tweens entering grades 6-12 can participate in this challenge. Keep track of reading and activities this summer for a chance to win prizes!
Image

Adults
Log reading time throughout the summer to earn badges. When you earn a new badge, you'll get a ticket you can use to enter one of our prize drawings!